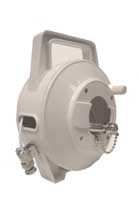 Small Cable Reel
CNMC cable reel assemblies offer a great convenience in winding and storage of extension cables. A cable reel will extend the life of a cable significantly by eliminating kinks and providing protection during storage. Only as much cable as needed has be reeled out at any time.

A cable reel will accommodate one white Microdot extension cable up to 15 meters in length or two white Microdot extension cables up to 12 meters each. Either gender may be specified at the hub, depending on whether the cable reel will be kept at the electrometer (male connector at the hub) or inside the treatment room (female connector at the hub).

The model number for the extension cable assemblies may be assembled according to an example provided on the PDF Document.