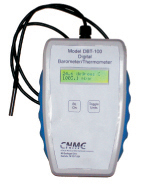 Model DBT-100 & DBT-100T
Precision Digital Barometer / Thermometer
The Model DBT-100 is a portable digital barometer/thermometer possessing a combination of handheld calculator size, digital display, high accuracy and wide choice of units, making it ideal as a portable absolute pressure reference.

The DBT-100/T features a variety of pressure scales to enable the operator to display the atmospheric pressure in units of mmHg or mbar, as the most widely used units in radiation therapy. It also displays ambient temperature in °C with 0.1 degree resolution.

The DBT-100 operates on 2 9-Volt alkaline batteries for 100 hours. The TOGGLE UNITS button allows the user to choose mmHg or mbar.

The rugged, ABS molded case for the DBT-100 has been designed for handheld use in field applications.

The Model DBT-100T is enclosed in a sturdy metal enclosure for bench top application.